Tips to get your container garden ready for planting!
Simple and practical ideas to get your container garden ready for planting! With tips, tools, flowers and container info!
I worked with Lowe's Canada to share some ideas and tips for container gardening, and I couldn't be more thrilled. I absolutely love gardening!
Spring here in Calgary has come very early! In fact I saw on Facebook that 2 years ago at this time we were under a foot of snow! Crazy. But not this year. This year we have already had over 10 days of 20+ degree weather, so I have the gardening bug really bad. It's hard not to when some years we only have just over 2 months to enjoy our garden in full bloom. It's still possible that we could get a spring snow storm, but for now I'm going to enjoy this early arrival of summer (and have blankets ready on hand!).
Last week with my kids in tow, we headed out to Lowe's to start our garden shopping. I was amazed at how full the centre was already for the month of April. From now until June truckloads and truckloads of plants will arrive every week…it's a gardeners dream! On my first trip I wanted to keep things fairly simple and mostly just purchase items that I needed to get my garden ready for planting. This year I've scaled down my garden significantly, removing planter boxes and perennials, and instead I will be focussing all of my gardening efforts on containers. We have a large deck off the back of our home which is a perfect sunny space for many many containers of flowers.
While I was at Lowe's I spoke with the garden centre manager Hazel, who is also a horticulturalist, and she was a tremendous help! I had so many questions about pots, fertilizers, flower arrangements…and she was able to answer everything. I'm heading into this garden season ready to have my best garden yet.
Container Garden Must Haves:
Before I started my planting I took inventory of the supplies I had at home, and surprisingly I was in need of quite a few things. It was time for new pots, clean soil, new hoses and tools, all of which I was able to get at Lowe's. This is my list of my container garden must haves.
Flower pots: These are a personal preference. I like to use self watering pots and heavy glazed pots that hold water well.
Potting soil: Get a good potting soil that provides optimum aeration, drainage and nutrients.
Compost: Compost is rich in nutrients. It increases plant stem strength, promotes vigorous root growth, foliage, and flowering.
Garden trowel: This tool is a must for planting flowers!
Garden hose
Spray gun hose attachment: I like the nozzles with the adjustable spray patterns.
Fertilizer: A tip from my Lowe's expert is to use a fertilizer with a higher 3rd number. I'm using Plant-Prod 15-15-30 Tomato & Vegetable fertilizer for my flower pots.
Gardening gloves: Keep your hands and manicures soft and clean all gardening season long! 😉
Watering can: I use a watering can to water and fertilize all of my potted plants.
Self-Watering Planters
The flower pots I'm using this year are these square self-watering planters. I love the idea of even more low maintenance as far as my flowers go. These planters have a built-in water reservoir that encourages healthy plant growth by allowing plants to practically water themselves, this means that plants stay happy between waterings. I also love that they look so nice on my deck!
Getting ready to plant:
Before it's time to actually plant, a few things should be done ahead of time. These are steps like cleaning and preparing pots, mixing soil, planning floral arrangement ideas…all steps towards a beautiful garden.
Have all of your tools ready. Hoses, watering cans, fertilizer, soil…
Clean out your pots. Remove old plants, and any soil that may have moulds or disease from last season. You many even need to bleach wash old pots that you think may have disease (like powdery mildew).
Fill your pots with new soil and compost if needed. Mix your potting soil with some compost to help with moisture retention, which means your plant are less likely to dry out between waterings. The compost also adds a lot of nutrients to the soil. This year I used a mixture of Pro-Mix Potting Soil and Biomax Sheep Manure Compost.
Choosing plants for your container garden:
Find out what plants grow well in your region. I live in an area where our winters are harsh and our summers are short, so buying plants can be tricky! I try to stick to annuals as much as I can during our spring and summer months, because they're easy to grow and with little care I can have flowers all spring and summer long! Having said that…
Don't be afraid to use shrubs and perennials in your container garden! Yes, we don't have to limit our flower pots to annuals! Shrubs and perennials look beautiful in flower pots and make great statement arrangements. Remember they're just plants and you can replace them each year! And if you wish to keep them for next year, just make sure to cover and care for them over the winter.
Buy plants that work best for your yard and sun. Check the labels and make sure you're planting plants that need full sun in the sun, and shade plants in the shade.
Use the rule of 3 (or 5 or 7)! Keep this rule in mind when you're planning your containers. Plants always look best when grouped together in uneven numbers like 3, 5, 7. One lonely plant has very little impact, but group them together in 3, 5, 7 or more and you will have big impact!
Thriller, Filler, Spiller: Have you heard of this gardening rule? It's a great one to keep in mind when shopping for your flower pots. A thriller plant is your big, bold and beautiful centrepiece flower. The fillers are plants that compliment the thriller plant, but don't overwhelm it. The spiller plant is the plant that spills over the side of the container (like a trailing verbena or bacopa or creeping jenny or lobelia)
Don't be afraid to ask the garden centre staff questions! While I was planning and shopping for my garden at Lowe's, I worked with the most knowledgable and helpful staff member named Hazel! Hazel is a horticulturalist so she was a wealth of knowledge, and she helped me tremendously, answering all of my questions from planter options to fertilizer recommendations to plant choices.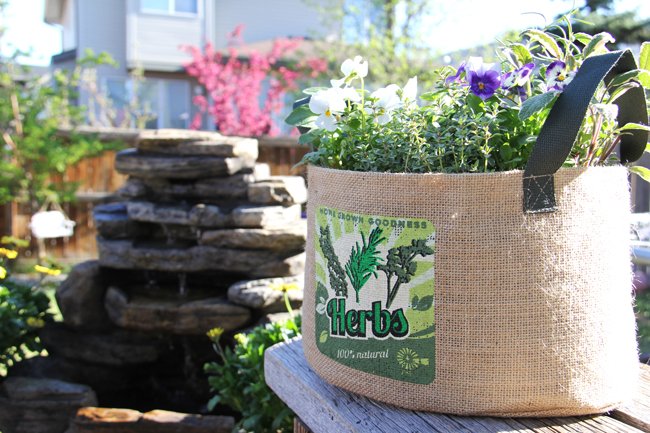 Flower Planting Tips:
Planting Sweet Peas: This year I'm growing my sweet peas in a flower pot on my deck. I used 9 packages of various types of sweet peas in one pot! I planted a bush variety, and 2 different heights of vine varieties so the planter will have sweet peas growing at all height levels! And yes, you read that right, I used 9 packages.
Mix colours and textures. Our flower pots need not be boring! Choose 2 or 3 colours for your pot, and pay attention to the foliage. Foliage can make a big impact too.
Pack those plants in! When putting together your flower pots, pack those plants in! Yes, fill the pot with as many plants as you can fit (leaving about an inch between each plant). That way when your flowers start to grow, your pots will fill in and won't look empty. With our short growing season here (2 months, 3 if I'm lucky!), I don't have the luxury of waiting for my planters to fill in, so I have to fill them in from the beginning.
Water the roots, not the flowers and foliage. When watering your plants, try only to water the soil and not the foliage. This will help prevent plant disease.
Water your plants in the morning. That way they have time to absorb the water throughout the day and in the hot sun.
Fertilize your plants once a week. For beautiful and full flowers you need to fertilize once a week! Choose a day and stick to it…I fertilize on Mondays!
Succulent Tip! Succulents do not need a lot of water, in fact they like fairly dry soil, so be careful not to overwater them.
Now my pots are all planted, and all I have to do is wait for everything to fill in and grow. I'm looking forward to sharing updates of my garden as it grows!
PIN IT for later!
Happy Planting!